Aircraft X-Ray: The History of Aerospace Radiographic Testing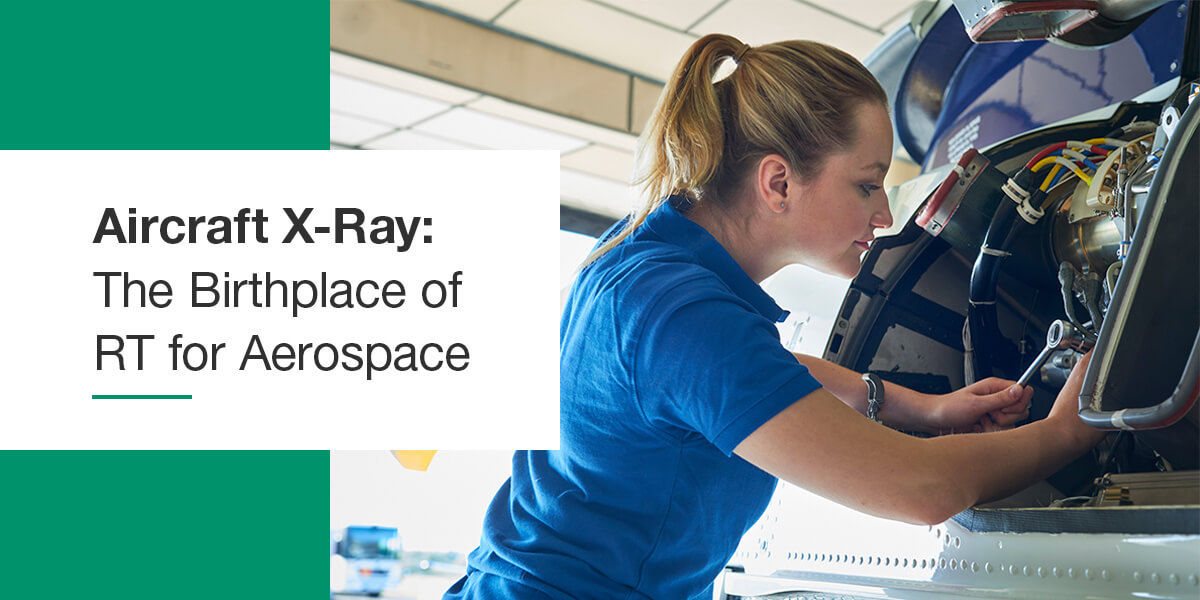 Jump to: What is Radiographic Testing?, Aircraft X-Ray History, Direction for Modernizing Facilities, Importance of RT Applications in Aerospace

What is Radiographic Testing?
Radiographic testing (RT) is a popular method of non-destructive testing (NDT) that grows more and more accurate and valuable with every passing year. One of the pioneers of NDT and X-ray testing is Aircraft X-Ray Laboratories. This company, established back in 1938, used X-ray technology to great effect when it came to inspecting industrial castings. Today, they're continuing that important work with the help of FujiFilm's computed radiography (CR) systems for aerospace.
These CR systems provide benefits for many aerospace programs through modern, digital mediums and valuable testing methods. Through their new partnership with FujiFilm, Aircraft X-Ray is incorporating these benefits into their operations to improve aircraft inspections for a wide range of clients.
Aircraft X-Ray History
Aircraft X-Ray started with Mr. George E. Newton, who kicked things off by X-raying castings and removing bad parts. This technique saved manufacturers money by catching defects before the part went through costly and time-consuming machining processes. Newton eventually realized that some of the parts being inspected had large holes that weren't being picked up by the X-ray scanner. He decided that if he couldn't figure out a way to spot this defect before he worked through one box of film, he would stop doing X-rays.
Fortunately, he managed to tweak the process and identify those defects. Aircraft X-Ray opened several new X-ray facilities and branched out into other inspection technologies, including magnetic particle, ultrasonic and portable gamma-ray testing. He eventually added new buildings and capabilities for metal finishing, machining, anodizing and painting, too.
Innovation is a clear part of their history, and Aircraft X-Ray has continuously worked to modernize operations to fit the needs of the 21st century. They've made great strides in their ERP and PLC departments and have focused on new initiatives like delivery and pickup to meet the needs of clients. FujiFilm's aircraft CR systems are just the next step in consistent growth for their RT capabilities.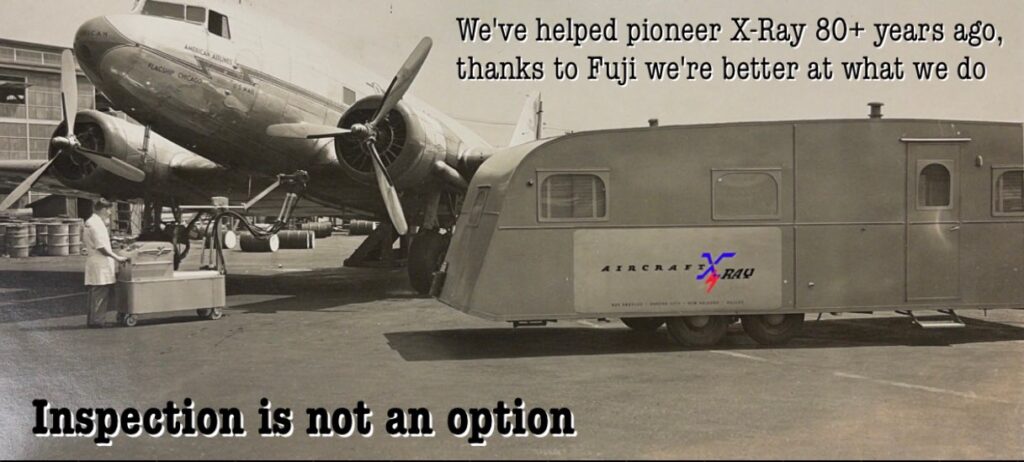 A Clear Direction for Modernizing Aircraft Facilities
Modernization is key to staying competitive and efficient, and aerospace X-rays are no different. With such complex products, accuracy is essential to safe operation, and today's technology brings a range of new capabilities to the table. Notably, CR can eliminate film-based systems and the additional steps and risks that come with processing and storing them. With the help of digital detector arrays (DDAs) or imaging plates, these systems offer easier scanning and minimal post-processing while meeting sensitivity requirements for the aerospace industry.
Upgrading CR systems with a focus on digital technology offers a clear path to modernization and paves the way for an improved aerospace program.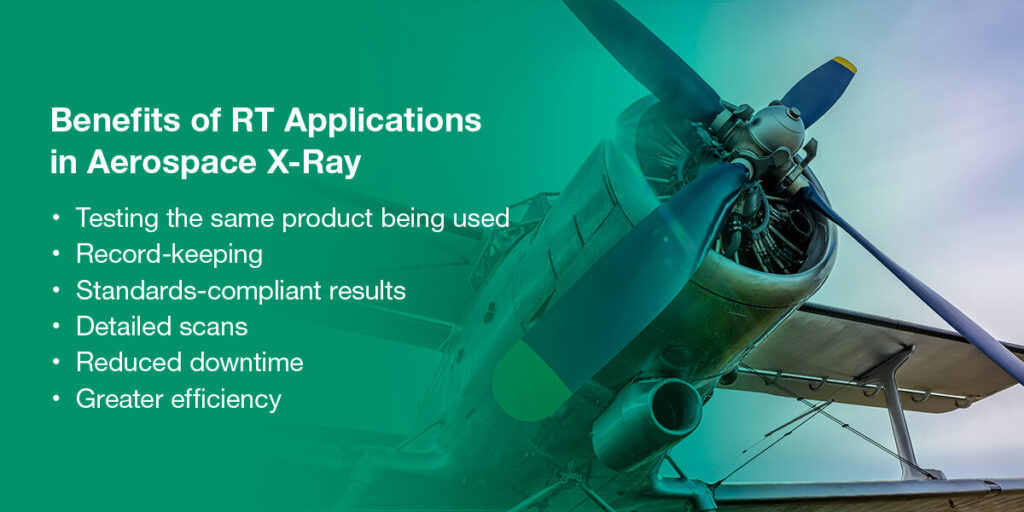 Why Are RT Applications in Aerospace X-Ray Important?
RT systems are powerful tools in the aerospace industry, offering NDT for many different components and equipment. Some of the benefits of RT include:
Testing the same product being used: Radiographic testing is unique in that it can offer accurate imaging deep into the structure of a part without destroying it. This means users can measure the quality of the exact part in question, rather than destroying a sample that may or may not be representative of other parts.
Record-keeping: Since CR users can collect images of parts before use, they can prove that they've inspected each part and found it to be in good condition before it leaves a facility.
Standards-compliant results: The image quality of radiography is some of the best across NDT methods and meets standards set by organizations like the American Society for Testing Materials (ASTM) and the International Organization for Standardization (ISO).
Detailed scans: Some NDT techniques cannot penetrate far enough into the part to offer valuable results, but radiography does. It can identify defects further into the part with exceptional accuracy.
Reduced downtime: Because RT can penetrate through components, you can often avoid disassembling components or aircraft and the downtime that comes with it.
Greater efficiency: RT is a quick process that requires minimal surface preparation and, again, minimal disassembling. If you opt for a CR system, you can also avoid working with film.
When it comes to inspection methods, RT has some impressive capabilities with benefits for safety, efficiency and profits.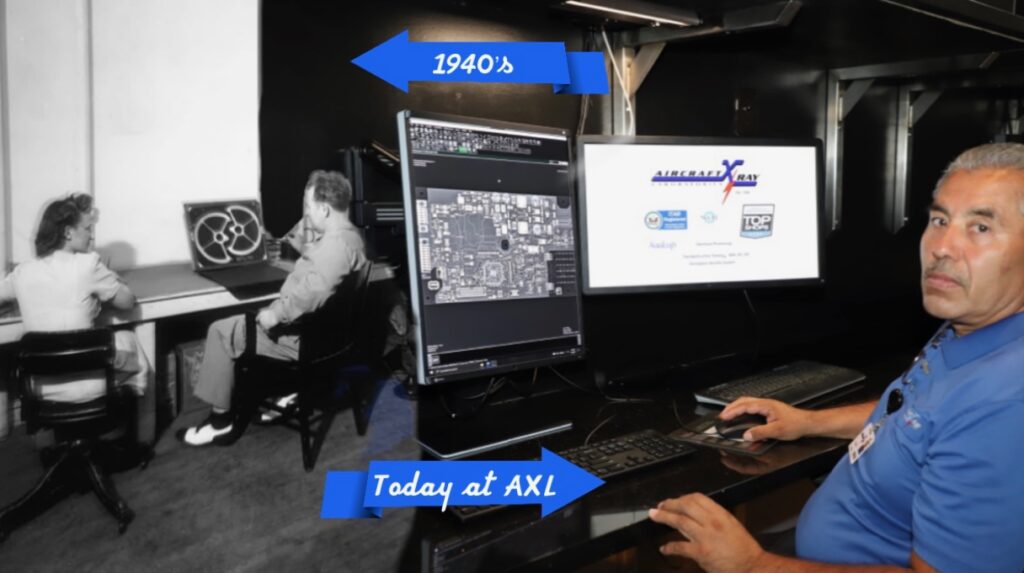 How FujiFilm Can Help
FujiFilm's CR system for aerospace applications brings these benefits to the table with some of the industry's most advanced features. These include imaging technologies that deliver exceptional quality with the help of an excellent signal-to-noise ratio, top-class spatial and density resolution and a wide dynamic range. Being on the FujiFilm platform offers big dividends through connectivity to DDAs, other advanced technologies and practical design benefits.
Take the Dynamix HR2, for example. This CR system accommodates small workspaces by inserting and ejecting the image plate in front of the image reader in a unique, narrow design. Special-cut image plating allows users to choose the ideal shape for their inspection object. Many objects can be inspected accurately with the help of these S-type, F-type and hand-held plates. The flexible design options allow it to fit smoothly into many different workflows and environments.
Like Aircraft X-Ray, FujiFilm is consistently working toward innovation. That's why we're frequently adding new capabilities and new features for our users. Moving to our CR system puts Aircraft X-Ray into that platform, so they're ready to take advantage of future technologies like Automatic Defect Recognition (ADR). ADR is a rapidly growing field with many positive effects for users. Being able to jump right into this system puts Aircraft X-Ray in line for fast updates and a competitive edge over other companies.
Another bonus of partnering with FujiFilm is the free 16-hour training that's offered with each of our CR platforms. We know just how much this system can do for your company and want to make sure you're using it to its fullest potential. Your team can learn from our certified instructors either at one of our regional programs or on-site at your facility. After training, they will meet industry requirements for Levels 1, 2 and 3 Digital Radiography Certification.
Learn More About FujiFilm's CR Systems Today
FujiFilm CR systems play a key role in many aerospace operations, backed by our trusted team of professionals and exceptional support services. We offer DDA products, CR systems, specific-wavelength blocking materials and imaging software that can help you make the most of your scans.
Committed to sustainability and continual improvement, FujiFilm is a proud partner of the aerospace industry and other organizations like Aircraft X-Ray. To learn more about our solutions and what CR systems can do for your company, reach out to us today.