What Is a Non-Destructive Testing (NDT) Technician?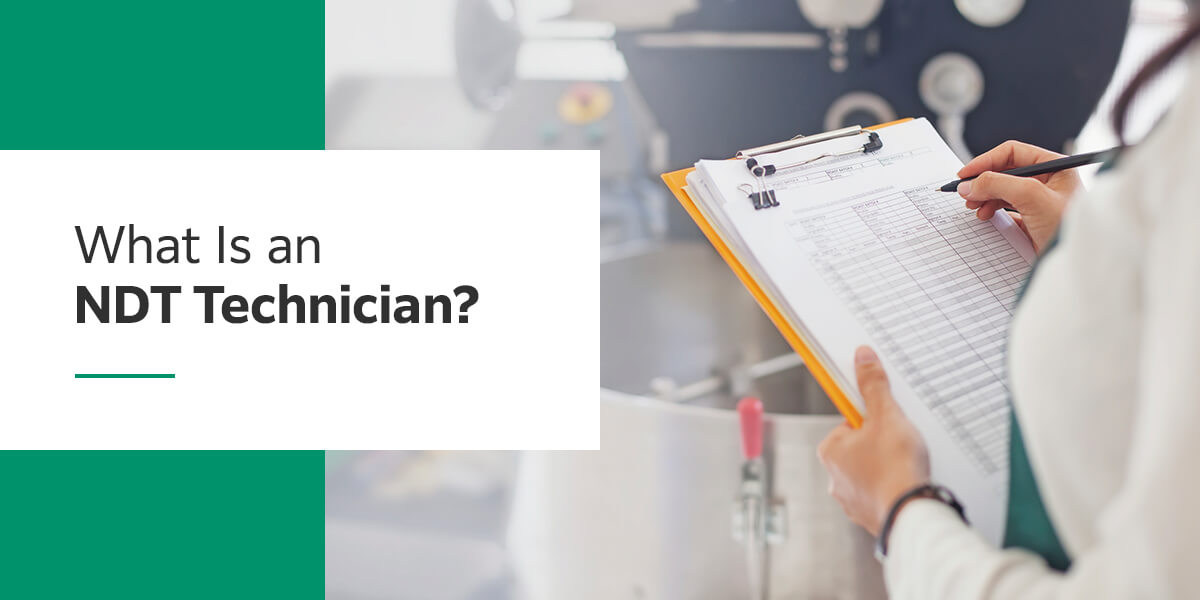 Jump to:
What is an NDT Technician?

Non-destructive testing (NDT) technicians or inspectors ensure material safety and reliability in a vast range of industries. Their tools and expertise save manufacturers time and money while preserving human safety. These technicians are essential to modern manufacturing. With their non-destructive techniques and advanced tools, they can find impurities or defects while preserving materials' usability. As you can imagine, testing objects without taking them apart is useful across many different fields.
NDT technicians are in high demand across various industrial and engineering fields. A career as an NDT inspector may be the right choice for you. These professionals are detail-oriented problem solvers with strong work ethics and good communication skills. They're also highly knowledgeable about testing methods and tools. The job market for these professionals is always growing and evolving along with technological advances. Learn what NDT technicians do, why they're important and how you can become one.
NDT technicians serve vital roles in the manufacturing world. The term NDT refers to the methods, tools and general field of non-destructive testing. Inspectors in this field employ various analysis techniques to evaluate a material's parts and properties without compromising or damaging it. An NDT technician may have alternative titles, such as:
NDT inspector.
Non-destructive examination technician (NDE).
Non-destructive inspection technician.
How Does Destructive Testing Vary From Non-Destructive Testing?
Non-destructive testing preserves the material the technician is evaluating. On the other hand, destructive testing may damage or destroy the material. For instance, destructive testing might involve taking apart a section of material, applying tensile strength to gauge a reaction or bending a material to test flexibility. Destructive testing methods are used on materials specifically set aside for testing.
What Does an NDT Technician Do?
NDT inspectors might use imaging technologies such as industrial radiography, ultrasonic imaging or assisted defect recognition. With these imaging tools and a trained eye, the technician can find imperfections without damaging or taking apart the material. The ability to do so is useful across many different industries, including:
Oil and gas.
Manufacturing.
Engineering.
Troubleshooting and research.
Across various fields, NDT technicians search for any signs of corrosion, cracks or other flaws — anything that might compromise effectiveness or safe operation. The materials they evaluate can still serve their intended purposes following inspection.
Why Are NDT Technicians Important?
NDT inspectors are critical for manufacturing. In engineering, NDT technicians ensure the proper maintenance of infrastructure to avoid catastrophic accidents. As a result, they help preserve resources and protect human safety. While there are many ways you can test an object for defects, non-destructive methods are the most time- and cost-effective.
An NDT technician's non-intrusive methods mean they need not disassemble structures, which is how they vary from destructive testing technicians. As a result, downtime and material waste are both reduced. Many different industries benefit from NDT methods, which help to produce the best result.

How to Become an NDT Technician

If you're interested in serving the essential role of an NDT inspector, you'll need the proper education, training and certification. To pursue this career, you will need to meet the following NDT technician requirements:
High school diploma or equivalent.
Formal classroom NDT training.
On-the-job training.
Specific industry training, if desired.
Passing scores on certification exams.
An NDT career is an ideal option for anyone who wishes not to pursue a traditional post-secondary degree. Some NDT technicians do earn two or four-year degrees, but it's possible to have a successful career without an associate's or bachelor's degree. Entry-level positions may provide additional training, but higher-level NDT technician positions often require years of experience in the field.
To work as a certified NDT inspector, you have to undergo all necessary training and pass all related certification exams. Most NDT training programs take less than one year to complete, although you can also find two- to four-year NDT technology curriculums. Having a background in science, engineering, technology and mathematics (STEM) is always beneficial.
What You'll Learn in Training
During your NDT technical training, you'll learn how to perform all relevant job duties with hands-on, guided instruction and on-site training. You'll experience using impurity-detection tools, which involve various technologies. The tools you'll use will depend on the relevant field. You'll also learn about safety and compliance standards across industries.

Skills Required for an NDT Technician

NDT professionals have certain soft and hard skills that enable them to perform their job duties. It's a good idea to consider the types of skills you need to succeed as an NDT technician — doing so will help you see if you'd be a good fit for the role.
Soft Skills
Succeeding as an NDT technician requires certain soft skills. Consider whether you have the disposition and temperament to do well in this field. Here are some skills and characteristics helpful to a career as an NDT technician:
1. Analytical Attention to Detail
NDT inspectors must be able to discern small details and variations when performing evaluations. It's essential to be detail-oriented and have strong analytical skills in this field. Even tiny imperfections can have serious consequences in manufacturing and engineering. An eye for detail can preserve materials and ensure human safety. Analytic and observational skills are essential for an NDT inspector to have. Keep in mind that seeing small details requires strong near-sight vision.
2. Problem-Solving Capabilities
These professionals are expert problem-solvers. You must be able to notice and address problems as they arise. The fundamental purpose of an NDT technician is to identify and address problems before they worsen.
3. Strong Communication Skills
Strong communication skills are also vital for those in this role. NDT technicians must be able to communicate complicated technical information in an understandable way, sometimes relaying information to those who are not well-versed in the field. They must share all essential details without leaving anything out.
They also need to have strong reading comprehension and active listening skills when working with clients or colleagues. Working alongside others is a regular part of the job. Among surveyed NDT inspectors, 90% said they have face-to-face conversations every day, and 70% say they have phone conversations daily. To do well in this role, you'll need to be an effective and comfortable communicator.
4. Ability to Work On-Site
A career as an NDT technician is not a desk job. Instead, you will work in a warehouse or outside. You'll have to stand, walk, bend and lift or carry testing equipment. You'll also need to have hand dexterity and steadiness to deal with small parts and pieces. You should be comfortable working as much as needed to get the job done — most technicians say they work more than 40 hours in an average week.
Hard Skills
The hard skills you'll need as an NDT technician vary depending on the industry you're working in. NDT inspectors use various tools and methods depending on what materials they're evaluating and the industry in which they're working. They may need to be able to choose the right equipment for the task at hand.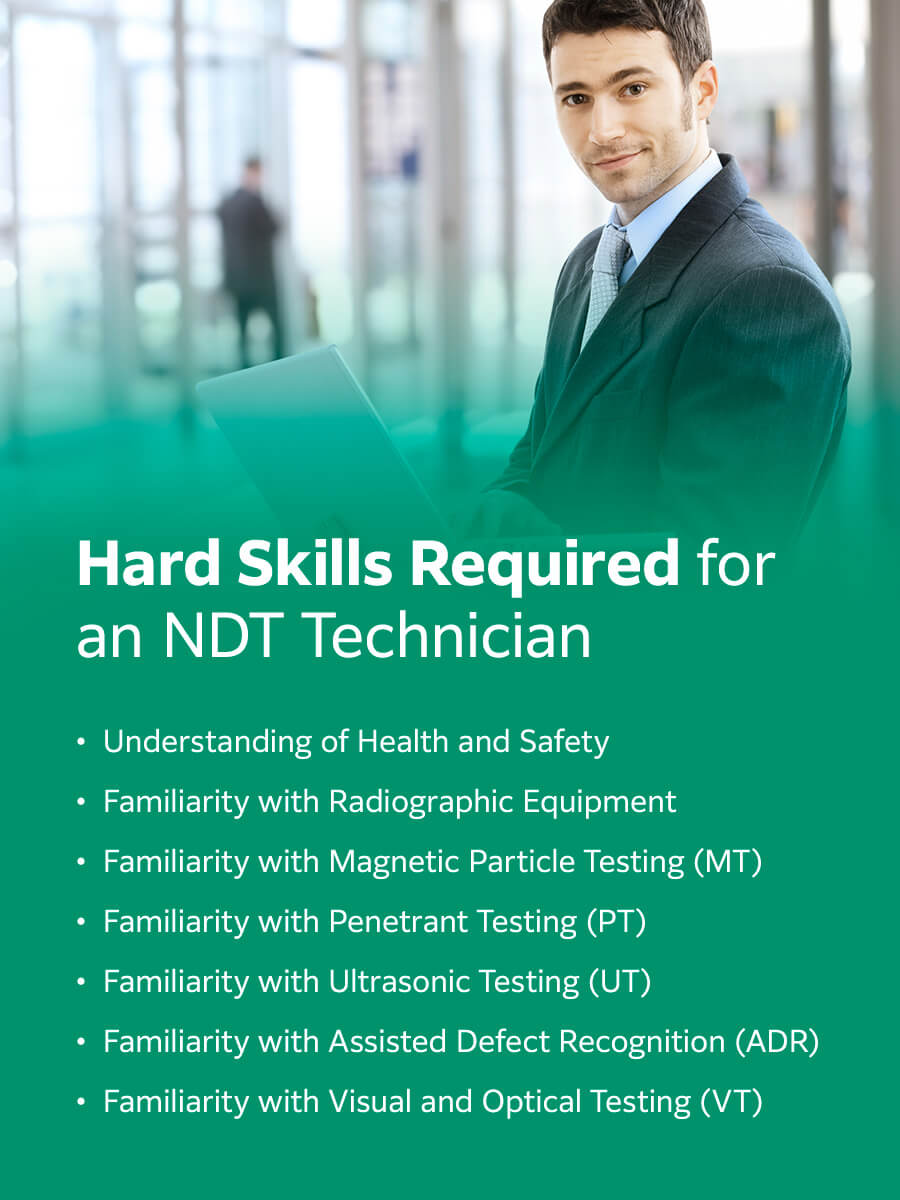 The following hard skills are the most common ones you'll need in this field:
1. Understanding of Health and Safety
A thorough understanding of issues related to health and safety are necessary for anyone in this role. You must be well-versed on health and safety concerns as they pertain to manufacturing and engineering. You should know the industry standards, such as those the American Society of Mechanical Engineers sets for construction equipment and components. That way, you can find defects that pose health and safety risks.
2. Familiarity With Radiographic Equipment
Most NDT technicians use radiographic equipment every day. Radiographic equipment allows the specialist to visualize the inside of equipment without taking it apart or otherwise destroying it — it's part of what defines non-destructive testing. The same way a medical doctor uses an X-ray to look for bone fractures, NDT inspectors use X-rays or gamma rays to look for impurities in a structure. The image will project onto a film or digital detection device for examination.
3. Familiarity With Magnetic Particle Testing (MT)
Another method for finding defects is magnetic particle testing (MT). The technician creates a magnetic field through an object. They then dust iron particles over the object's surface. Any cracks at or just below the object's surface will disrupt the magnetic field and cause the iron particles to flood to that location. An iron particle buildup indicates an imperfection, which the technician will flag.
4. Familiarity With Penetrant Testing (PT)
Penetrant testing (PT) is a simple and efficient way to search for surface-level defects. You may also see PT referred to as "dye penetrant inspection" or "liquid penetrant inspection." PT involves applying a dye solution to an object's surface, which will seep into any impurities.
After removing the dye, the technician applies a developer. It draws out any dye that penetrated the surface through a crack or crevice. If the dye is fluorescent, an ultraviolet light can make it stand out. Otherwise, the technician will use a stark color contrast in the penetrant dye and the developer to make it easier to see. An NDT technician may need to be able to perform this type of test.
5. Familiarity With Ultrasonic Testing (UT)
Another method is ultrasonic testing (UT), in which sound waves provide information rather than visual cues. The tester transmits high-frequency sound waves into a material. If the sound waves hit a change in medium, they bounce back to the receiver, allowing the technician to determine thicknesses and find impurities. This form of testing works well on metals, plastics and ceramics but not wood materials. One of its common uses is to identify pipework corrosion.
6. Familiarity With Assisted Defect Recognition (ADR)
Assisted defect recognition (ADR) software is a useful tool for finding defects. The system processes images and helps the technician find impurities. ADR technology helps technicians identify issues with stronger reliability. Every NDT technician should know how to use ADR software.
7. Familiarity With Visual and Optical Testing (VT)
The simplest way to find surface-level impurities is through visual and optical testing (VT). With their knowledge of impurities and careful attention to detail, an NDT technician might evaluate a surface visually. They'll use lighting tools, such as flashlights, as well as measuring tools. They might also use computer-controlled cameras or optical aids, such as a borescope, to help them find features.

NDT Technician Career Outlook

NDT technicians enjoy lucrative careers with desirable salaries. The field is on the rise, as technological methods continue to evolve and expand. Non-destructive testing is useful in many different industries, as it helps manufacturers save time, money and resources while ensuring quality control. Because the testing methods are so versatile and useful, you can find plenty of different places of employment as an NDT technician. You'll also earn a competitive salary thanks to an expanding job market.
Average Salary
Among the 91,600 NDT technician employees, the median wage is $30.86 per hour or $64,190 per year. Since it's a median wage, about half of NDT technicians earn more and half earn less. Keep in mind, median wages vary by state. For instance, in Pennsylvania, the median wage is lower than the national average at $58,100 per year. Of Pennsylvanian NDT technicians, about 10% earn more than $96,460.
On the other hand, NDT technicians in California tend to earn about $67,700, which is above the national average. About 10% of workers earn more than $108,460. It's important to note how the cost of living and inflation rates vary between different states — most jobs pay a bit more in California, where the cost of living is higher than average.
Job Market Outlook
The job market for quality control professionals is on the rise. By 2029, projections suggest the market will see 7,900 job openings. This rate of growth is a bit lower than average but still shows plenty of opportunities for those who pursue the field in the next decade.
Learn More About Our NDT Testing Solutions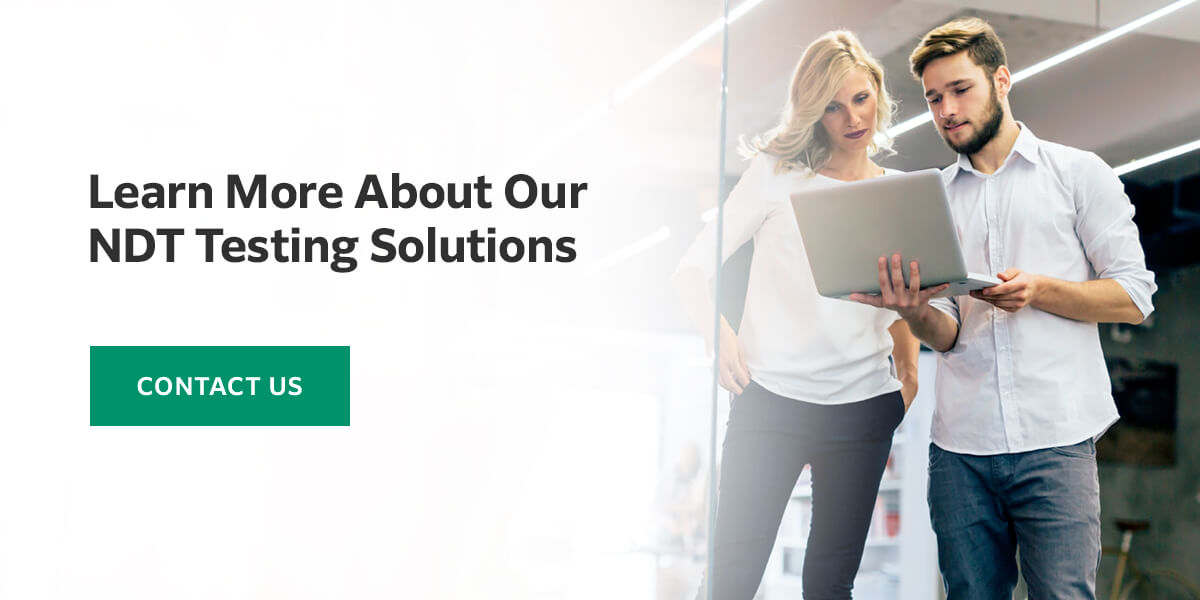 The need for non-destructive quality testing continues to expand. The nature of this type of testing allows manufacturers and other professionals to save time and resources. As a result, NDT professionals enjoy a strong job market and competitive wages. Those who study NDT learn about various non-destructive testing methods, using tools like radiographic equipment, dye solutions, high-frequency wave receivers and ADR software. An NDT technician is an expert in utilizing these tools, using them to identify defects and informing their partners and clients of their findings.
NDT specialists use the latest technological solutions to find manufacturing defects and help make the world a safer place. They work for clients in national defense, aerospace, oil and gas and other vital industries. If you're interested in learning more about NDT testing solutions, we can provide more information.
At Fujifilm, our leading radiographic imaging technology brings an exceptional level of accuracy to every inspection. Our in-house software exceeds expectations. As a leader in non-destructive testing technology, we provide the tools and expertise necessary for reliable inspections. Contact us at Fujifilm to learn more.