How Is NDT Used in the Oil Industry?
Jump to: NDT in Oil & Gas, What Can NDT Detect?, How DDA & CR Can Help
In the oil and gas industry, safety is critical, but the need for well-maintained systems can conflict with the need to avoid downtime and service interruptions. Traditional methods of testing often require oil and gas companies to drain pipes and tanks to conduct inspections. Non-destructive testing (NDT) provides a method that bypasses these interruptions. In the context of oil and gas, NDT uses advanced imaging systems to visualize a pipeline without the need to drain or open it.
NDT for offshore extraction and refining operations can streamline operations while providing highly accurate imaging for safe, efficient pipelines. Learn how NDT pipe inspection serves the oil and gas industry.
Non-Destructive Testing in Oil and Gas
NDT pipe inspections are a key part of ensuring safety and efficiency in oil and gas settings. They can assess large-scale damage like corrosion and smaller issues such as a flaw in a weld. NDT is used to:
Validate and assess equipment integrity: To adapt to the safety and efficiency demands of the industry, oil and gas companies must continuously and rigorously test their infrastructure. Since NDT is highly accurate and doesn't interrupt service, it can provide frequent testing to monitor equipment wear and stay on top of any issues before they require expensive repairs.
Create safe operating environments: Pipeline spills pose major health and ecological hazards. Non-destructive testing on pipelines can help prevent these incidents by detecting issues before failure. It can also create safer testing environments. Without the need to drain or modify the infrastructure, there are fewer opportunities for error or contact with harsh chemicals and products. NDT keeps materials safely inside the pressure vessels and pipes.
Improve efficiency: NDT improves speed in a few ways. Without the need for drainage or time-consuming testing processes, it can greatly reduce labor demands. NDT can also limit downtime and keep pipes operational. Many forms of NDT offer in-field testing options, eliminating the need to transport materials to and from the field.
Minimize costs: With efficiency comes cost savings. NDT testing can help you reduce the costs of labor, materials, downtime and undetected repairs. It can also indirectly limit costs associated with spills, such as reputational damage and fines.
Maintain compliance: Oil and gas companies must abide by industry regulations and laws to avoid penalties. Easy, streamlined testing processes can help them stay within these standards and document compliance. As a highly accurate and repeatable process, NDT can provide trusted, objective quality measurements. Rather than trusting a visual inspection, you can point to your imaging as evidence of structurally sound pipelines.
What Can Oil and Gas NDT Detect?
Across industries, NDT can identify a range of defects, like manufacturing errors or improperly set concrete. NDT in oil and gas industries is typically used to assess weld quality, cracks and corrosion. You'll find many varieties of NDT, including ultrasonic, dye penetrant, eddy current and radiographic testing.
Oil and gas products contain hydrogen, which can react with the steel materials that make up the pipeline. High heat and pressure can further exacerbate their corrosive properties. Over time, corrosion can cause the metal walls to thin or wear through the pipe unpredictably. It can also lead to cracks, which might worsen with exposure to thermal expansion, stress and a poor soil environment.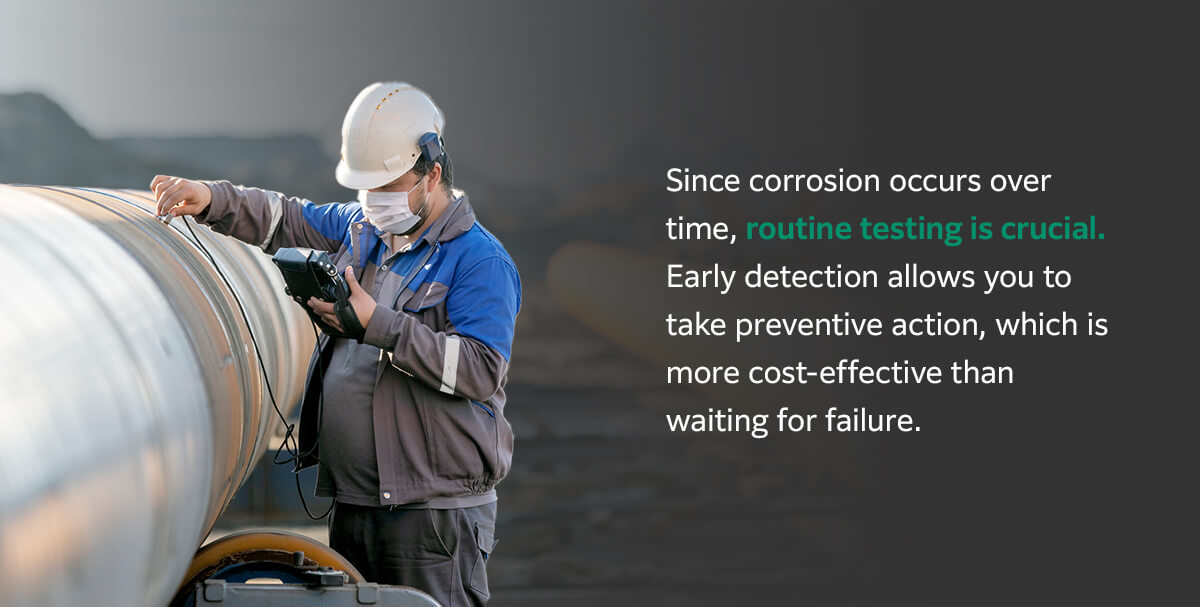 Since corrosion occurs over time, routine testing is crucial. Early detection allows you to take preventive action, which is more cost-effective than waiting for failure. Testing procedures must be high in quality and offer minimal downtime. NDT meets these demands for efficient, accurate and safe assessment across the many components of oil and gas operations. It can provide imaging for pipes, pressure vessels, welding points, dome ends and many other components.
How DDA Panels, CR, X-Ray Film Can Help
One popular method of NDT for oil and gas is radiographic testing, which uses X-rays or gamma rays to visualize a component or structure. Computed radiography (CR) and direct radiography (DR) provide similar images to traditional X-ray systems but with added digitalization.
DR uses digital detector arrays (DDAs). These flat panels capture a digital image for immediate reading in the field. CR requires more processing and materials, but it also offers quick digital images, and the image plates can flex over rounded objects. Both can help modernize and streamline testing procedures without the need for single-use films or chemicals. They can achieve impressive detail, particularly when combined with advanced processing technologies like geometric magnification.
While both CR and DR offer an advantage over traditional X-ray systems, the right one for your operation may vary. CR is more affordable upfront but doesn't offer immediate in-field results. The imaging plates must be fed into a reader, which transfers the image into a computer-readable format, and the plates are erased after each use. While DR can achieve higher detail with additional processing, CR can achieve higher reading density on its own. If you'll be working with smaller defects, CR can be more efficient.
For larger defects, DR is often the faster, more flexible option. It can develop an image in normal lighting conditions for immediate viewing. Users can act on the information right away and access it digitally for streamlined operations.
Fujifilm approaches NDT testing for the oil and gas industry with several capable radiography tools:
DynamIx FXR Pad: The DynamIx FXR Pad is built for tougher environments, with a lightweight, water-resistant build. An acrylic panel cover helps resist scratches and impacts during oil and gas testing in the field. You can assess pipelines with immediate results via flexible pads to fit various shapes. This system offers advanced imaging features and a 100 μm pixel pitch.
DynamIx HR2: Our CR solution, the DynamIx HR2, can achieve higher reading densities from 25 to 200 μm. It offers several different imaging plate styles, including custom designs, to meet your testing demands. The durable imaging plates can be erased and reused for better value.
Both systems need strong imaging software to create usable images that support your operations. DynamIx VU meets industry standards in a robust, user-friendly platform. It uses automatic contrast optimization and a wide dynamic range to offer unparalleled accuracy. Many in the oil and gas industry use DynamIx VU's long image processing features to reduce the number of exposures for examining welded pipe joints and other components.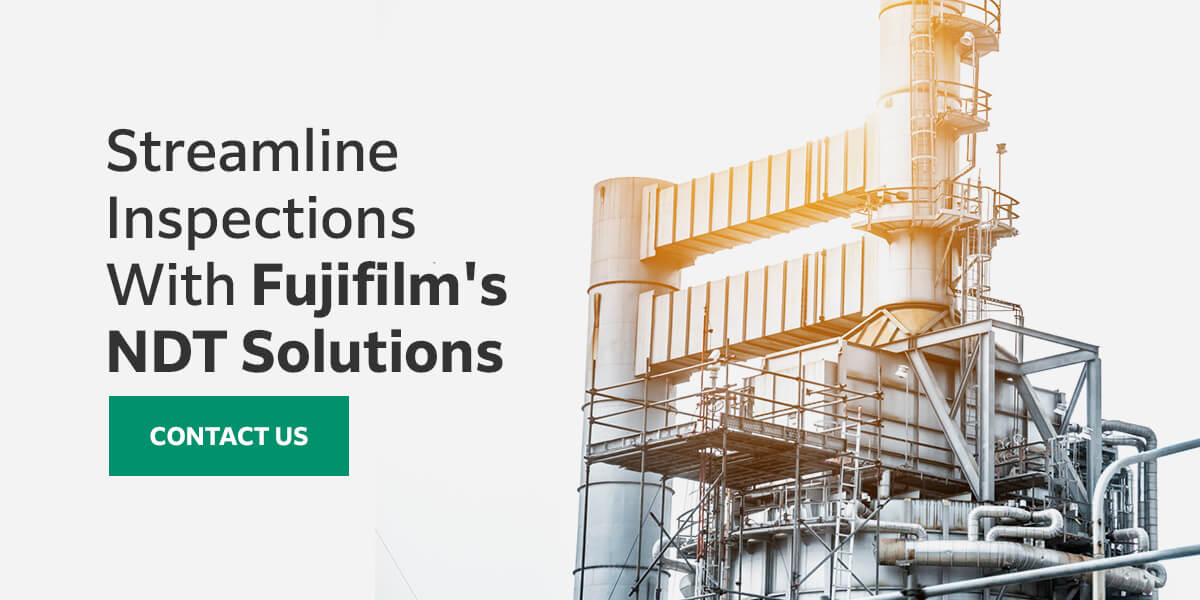 Streamline Inspections With Fujifilm's NDT Solutions
Fujifilm's portfolio of NDT solutions includes cutting-edge DDA panels, CR systems, X-ray film and imaging software. As an industry leader, Fujifilm delivers fast, accurate and flexible inspection equipment. Our knowledgeable representatives can help you find the ideal system for your oil and gas operation.
Explore our NDT products or reach out to a representative to learn more about how Fujifilm can help.