What Is DICONDE in NDT Testing?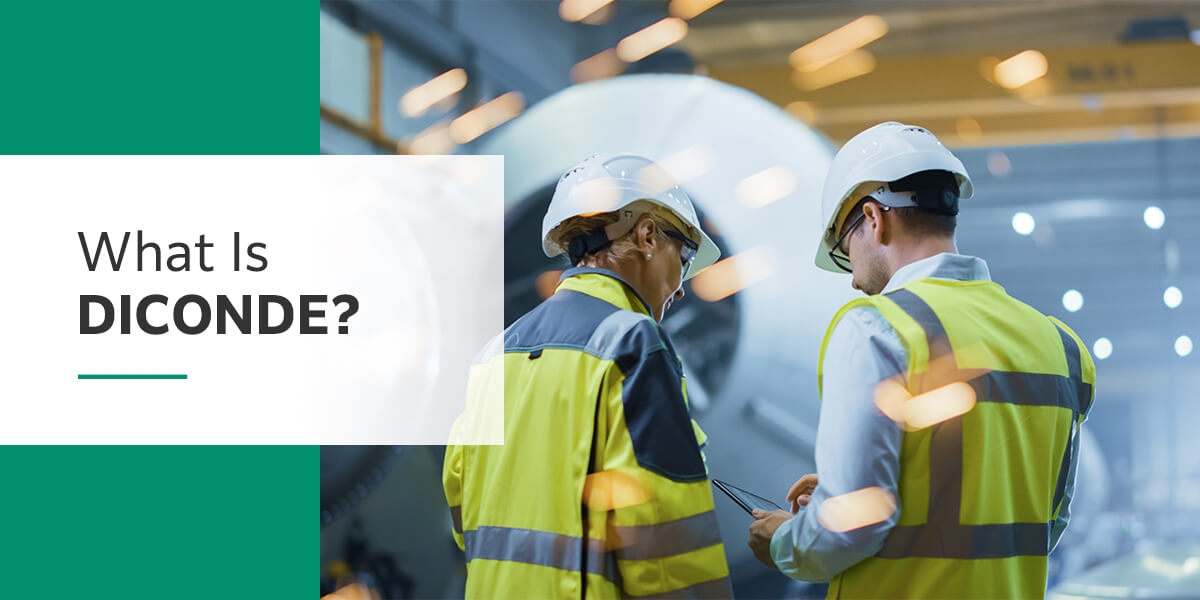 Inspectors use non-destructive testing (NDT) methods to evaluate the integrity of a component, material or system without alteration or damage. Multiple NDT methods exist, each serving a specific purpose, such as liquid penetrant testing, leak testing and radiography testing. Digital Imaging and Communication in Non-Destructive Evaluation (DICONDE) is a standardized format that allows for digital NDT data transfer, storage and display. Using DICONDE facilitates using NDT data on various systems, provided the systems comply with DICONDE.
Thanks to DICONDE, NDT data can easily be archived, retrieved and reviewed. Its use offers multiple benefits. Learn more about what DICONDE is and how it works.
DICONDE is an archiving and imaging standard first developed in 1993. It's based on the Digital Imaging and Communications in Medicine (DICOM) standard, used throughout the medical industry. DICONDE became the standard for NDT in 2004 with ASTM E2339 to standardize an open format that allows for effective preservation and interpretation of results.
One early issue with DICONDE was that early systems were not always compatible, making it difficult to share data efficiently. NDT providers and purchasers needed a test to ensure the interoperability of systems between vendors. ASTM International then developed a standard, E3147-18, on DICONDE Interoperability.
What DICONDE Is Used For
DICONDE compliant software is used for:
Storage and retrieval: The DICONDE standard is backward compatible, meaning images can be stored long-term. In the future, it'll be possible to use DICONDE software programs to open older DICONDE data.
Image search: Using DICONDE, you can search images by user information, technique and part information.
Preservation of data integrity: The pixel data doesn't change and can't be altered under the DICONDE standard. The only thing that can be changed is the overlay.
Security: Using DICONDE-compliant software requires authentication, increasing security over network communications.
Interoperability: The DICONDE standard ensures vendor compatibility. If a vendor shuts down, a company can switch to a new DICONDE-compliant vendor and maintain access to older images. Similarly, companies can use multiple vendors, provided they are all DICONDE compliant.
DICONDE in NDT
Before the development of the DICONDE standard, manufacturers of NDT technology relied on proprietary data formats. That made it challenging to exchange images and data without using specialized archives or programs from each manufacturer. A vendor-neutral standard allows companies to share and access their data more readily.
When used in NDT, DICONDE provides:
Neutral formats for data media exchange
Data structures for images
Network-oriented services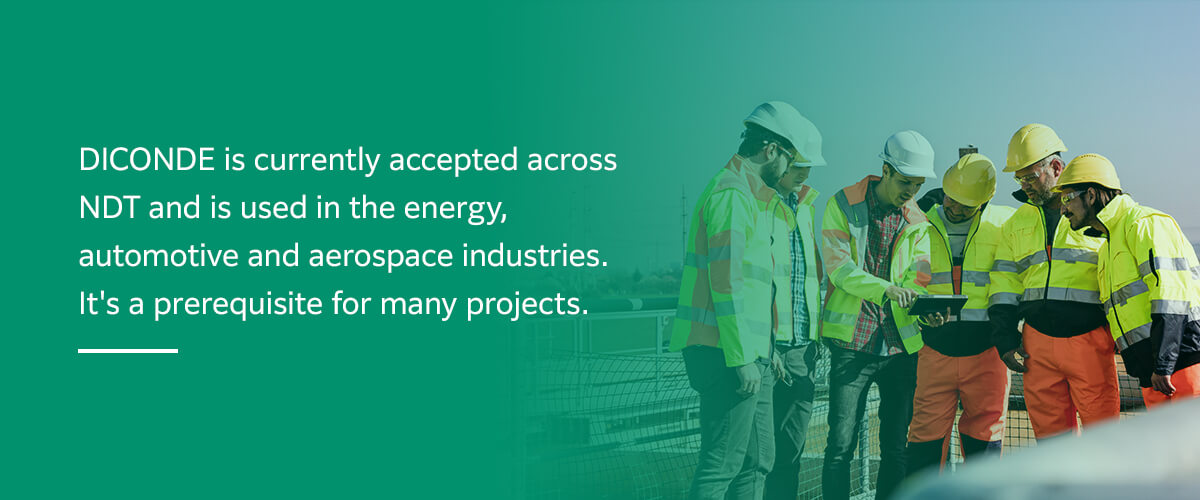 DICONDE is currently accepted across NDT and is used in the energy, automotive and aerospace industries. It's a prerequisite for many projects.
When searching for new test equipment, look for the following to ensure DICONDE compliance:
DICONDE Modality Work List: The work list function allows test equipment to get orders directly from the test management system. It eliminates the need for manual entries, which can be error-prone. The test results can also be assigned directly to the order through the work list.
DICONDE Store Service: The DICONDE store service allows you to save a DICONDE-compliant image or test data in the archive. Data and images can also be distributed at the location of appropriate systems.
DICONDE Presentation State Storage: The evaluation system and NDT equipment should also support DICONDE Presentation State Storage, which allows for the transmission of images to all viewing stations in the format the image will be presented in. The presentation state contains information about the highlighting, annotation, section enlargements and measurements of the images and data. It's critical for supplying the right measurements for the test image in a network.
DICONDE Conformance Statement: The supplier should give you a conformance statement that summarizes the DICONDE services the system supports. The conformance statement is beneficial if you use DICONDE services through several connected systems. If you use a networked environment, there should be at least one service class provider (SCP) and a service class user (SCU).
Why Should DICONDE Be Used?
Since its development, DICONDE has become the standard for use in NDT. Using DICONDE comes with many benefits, and there are multiple reasons why it should be used for data communication and as an NDT file format.
It works for all types of images and data with NDT: DICONDE defines a container for both lossy and lossless images, signal data and video storage. The format also works for PDFs and document files. Each DICONDE file contains structured metadata tags, which provide a clearly defined information set. The structured metadata allows database structures to be rebuilt at any time.
It allows for vendor independence: Each tag in a DICONDE file is clearly defined, allowing no room for conflicting interpretations. As long as a DICONDE file is fully compliant, it will be compatible and readable by various systems for an extended period.
It helps develop a process-based workflow: DICONDE allows you to adopt a fully digital and seamless workflow. Using it, you create inspection orders, which are published as work lists. The metadata in the DICONDE file populates based on the data in the work list. Certain pieces of data, such as the name of the tested material or component, are digitally transported and cannot be altered. It allows for the quick retrieval and review of image studies.
It ensures data integrity: The raw data that gets written into a DICONDE file at the time of creation can't be manipulated or altered during processing. Any measurements and modifications of window level, brightness, markers and contrast are stored as separate, associated DICONDE objects. The metadata remains identical to the information in the supervising system, which protects data integrity throughout all connected software systems.
It protects your investment: DICONDE is an open standard developed by a non-profit. It allows for the most investment security since the cost of development licenses doesn't constrain it. There's no room for interpretation variability with DICONDE, meaning that products from different vendors will always be interoperable. You can migrate data between systems and products at any time and can change vendors without having to convert or rewrite archived files.
It defines structures and protocols: DICONDE defines data structures and network communication protocols based on Transmission Control Protocol/Internet Protocol (TCP/IP). The clearly defined protocols and structures ensure that any connected devices use the same language. Systems that follow the DICONDE standard can also use the Query/Retrieve protocol to exchange data.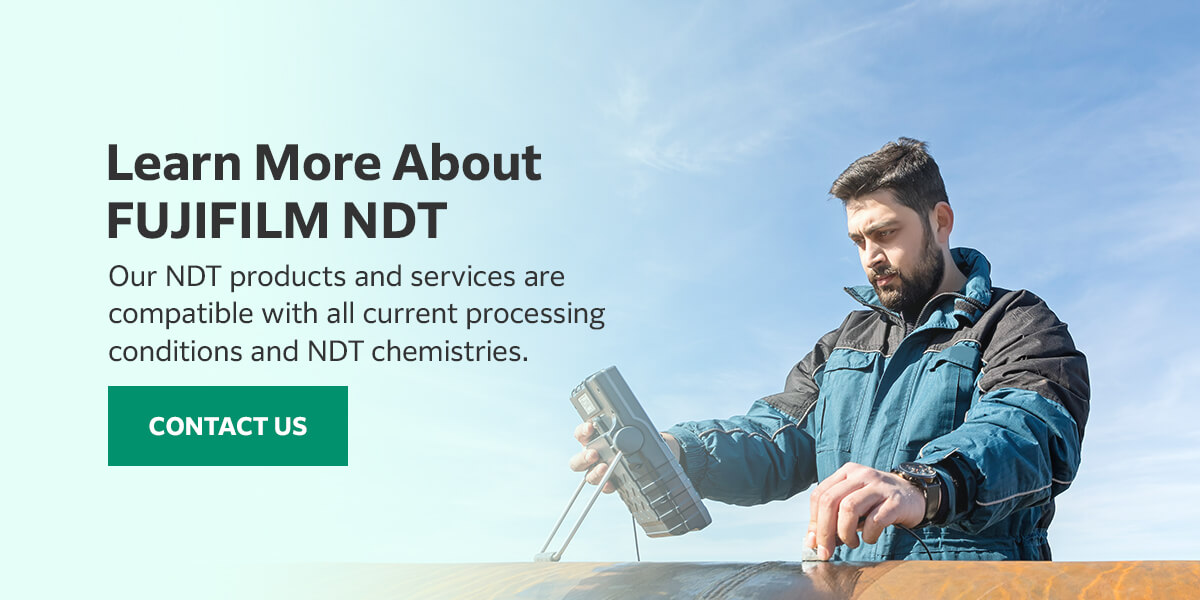 Learn More About FUJIFILM NDT
FUJIFILM NDT offers digital radiography and conventional X-ray NDT products that allow you to effectively identify product issues without damaging materials or components. Our NDT products and services are compatible with all current processing conditions and NDT chemistries. To learn, contact us today about NDT.