How Is NDT Used in the Construction Industry?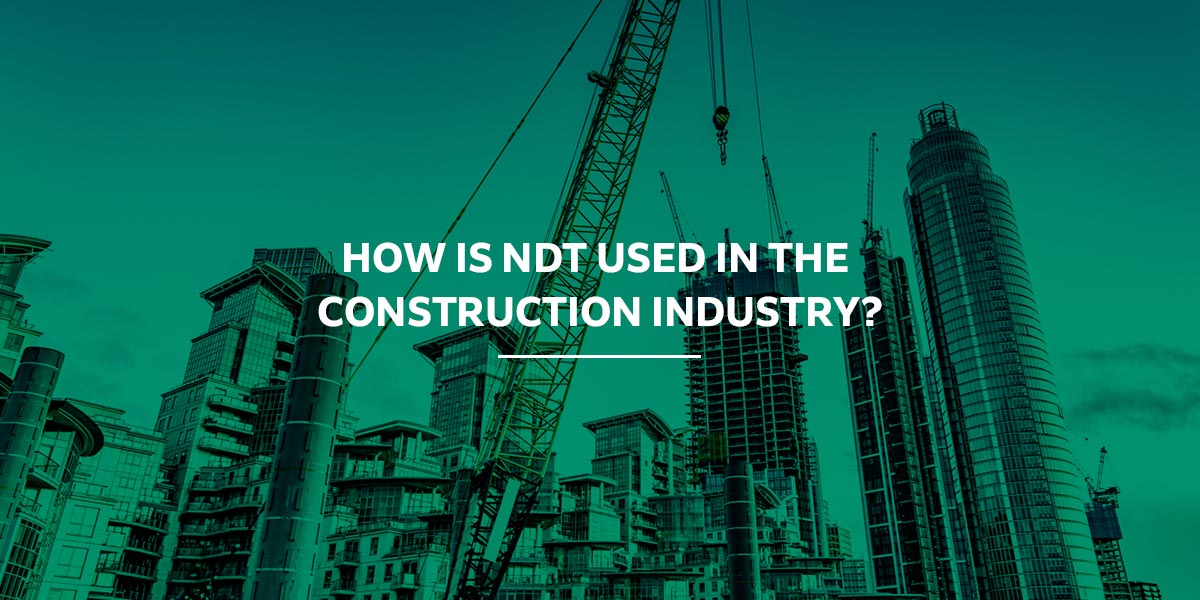 Jump to:
Two key elements of any construction project are minimizing costs and ensuring structural integrity. Non-destructive testing (NDT) can meet these goals with highly accurate methods of assessing condition. NDT can come in many forms, but it's one of the best tools contractors can use to diagnose problems and perform general testing.
As the name implies, non-destructive testing assesses a structure or item without damaging it. It's used in a wide range of industries, including manufacturing, aerospace, oil & gas and construction. With quick, portable options, you can work faster while reducing errors and costs. Let's look at NDT in construction and how it can support your business operations.

The Importance of NDT in Construction
NDT in construction is typically used to assess structures and locate targets within them, such as pipes, rebar and conduit. By finding these items, NDT can simplify processes like coring, drilling and cutting to minimize damage and speed up work. It also helps monitor structures for corrosion issues and damage. While concrete is a common material to use with NDT, this method can also be used on materials like brick or natural stone. NDT offers a fast, reliable method of in-field testing at all stages of a structure's life span.
The main alternative to NDT is partially destructive testing. This method involves removing a portion of the structure — usually a concrete core — for testing. The structure must then be repaired. It creates additional labor requirements, delays and overall costs while potentially affecting the finished product.
Many in the construction industry choose NDT for the wide range of benefits it offers:
Reduced costs: Bypassing the core removal process can significantly reduce labor and material demands and increase the efficiency of the entire project.
Faster testing: A portable NDT system allows you to test in the field, with many NDT methods offering instant image review. Rather than removing a core, transporting it to your testing equipment and repairing the structure, you can simply scan the structure itself and view the images immediately.
Greater accuracy: Many NDT methods are incredibly accurate and can achieve better results than partially destructive testing. The details will depend on your testing method, but since you don't need to damage the structure, you can usually rely on more accuracy overall. With more and better data, you can make decisions quickly with the right information at hand. You don't need to guess or spend as much time on invasive assessments.
Minimal damage: By eliminating the need to remove part of the structure, you can minimize the potential for damage.
How Is NDT Used in Construction?
NDT comes in many different varieties, using mediums like sound, light and magnetic attraction to collect data. Some popular options include radiographic, acoustic emission, ultrasonic and dye penetration testing. They can help with quality assurance and documentation at many stages of a structure's life span. Radiographic testing is often the method of choice thanks to its speed, quality and ease of use.
In construction, NDT is an ideal method of assessment because it doesn't interrupt other processes and can keep the project on schedule. NDT can find defects and anomalies and offer precise locating to minimize damage. With NDT, assessment can occur without putting other tasks on hold.
NDT for construction is often fast and unobtrusive, with minimal delay between building, testing and continuing with the next task. NDT can also locate issues quickly, so workers can target the defect with less trial and error that would interrupt the build.

How Digital Detector Arrays and Computed Radiography Can Help
Digital detector arrays (DDAs) and computed radiography (CR) are two technologies used to power capable NDT methods in construction. As types of direct radiographic testing, DDA and CR use X-rays or gamma rays to visualize a component's internal structure. Both are used across industries, like inspecting welding work and machinery. In construction, they can offer in-field NDT without the need for film.
Some characteristics that radiographic testing can identify include:
Voids
Conduit
Wire mesh
Pipes and drains
Cooling and heating lines
Rebar pattern and location
Embedded electrical ceiling boxes
Data cables and post-tensioned cables
This digital nature of DDA and CR can help construction companies modernize their practices. Users don't need to worry about consumables, like developing chemicals and film, associated with traditional systems. The images can be accessed from everywhere and, with some systems, developed on-site. You may not even need to leave the construction site to access your scans.
DDA systems use flat panels to capture an image. In some cases, software processing such as geometric magnification must be applied to achieve the desired level of detail. CR systems work similarly but can accommodate pipes and rounded objects. They sit somewhere between DDA and traditional X-ray. While CR doesn't require film and its complex processing requirements, it does use cassettes and has a more complicated maintenance process for erasing the plates.
DDA is fast and offers high dynamic range and excellent detail, particularly for larger defects. CR is more cost-effective and flexible but tends to be lower in quality than DDA. In some applications, CR is faster than DDA. When scanning a large area, such as a wall, DDR panels must be moved and repositioned for every shot, while CR allows you to place image plates all over the wall and scan the surface in one shot.
CR offers an upgrade from traditional X-ray. Compared to DDA, CR can read smaller defects without the additional processing that DDR would need to achieve a similar level of detail. Both options provide portable, fast assessments and high quality. Unlike film-based alternatives, they don't require chemicals, a darkroom or the other drawbacks of film.
At Fujifilm, we've developed DDA and CR systems trusted by those in construction. We can help you balance cost-effectiveness and performance with our NDT construction solutions:
DynamIx FXR Pad: For in-field DDA, we offer the DynamIx FXR Pad, a lightweight, water-resistant detector designed for tough environments. It can also resist scratches and impacts with an acrylic panel cover. It offers real-time imaging on the job site and can attach to rounded surfaces like pipes. The DynamIx FXR Pad detectors offer a 100 μm pixel pitch and advanced imaging features.
DynamIx HR2: The DynamIx HR2 is Fujifilm's CR system, offering a reading density from 25 μm to 200 μm. We offer several different types of imaging plates and scanner configurations, including custom options, so you can test various shapes.
Both our CR and DDA systems are powered by DynamIx VU, Fujifilm's dependable diagnostic imaging software. It meets extensive industry testing standards, provides a user-friendly experience and streamlines assessment tasks like thickness measurements and image adjustments. Hardware is only half of the equation. Strong image processing software can ensure your NDT methods offer the best possible results.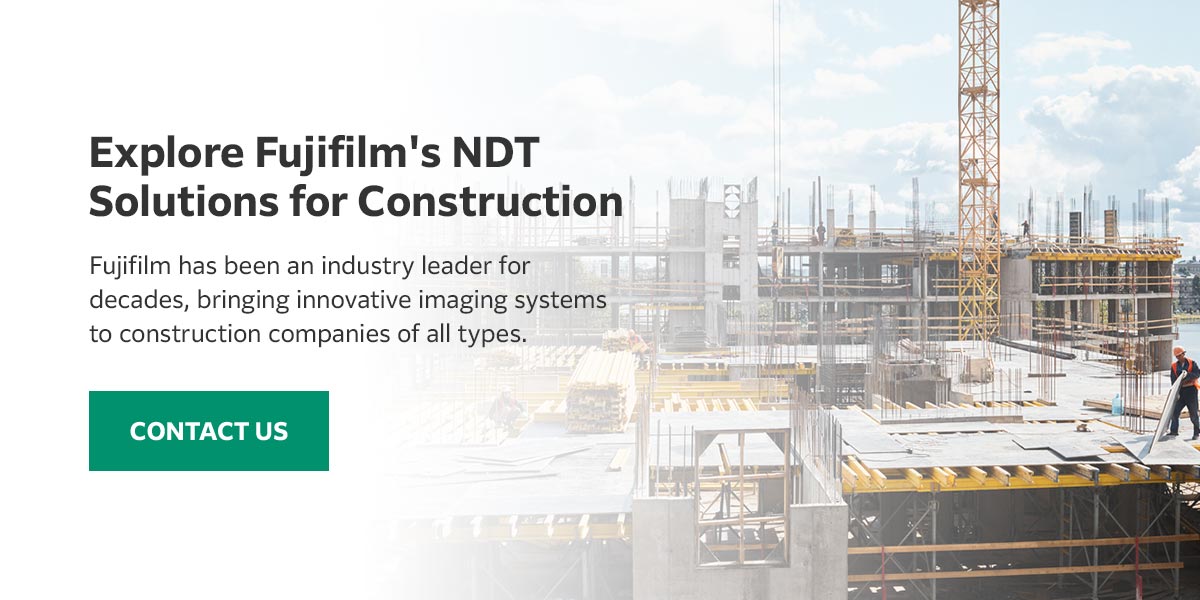 Explore Fujifilm's NDT Solutions for Construction
Fujifilm has been an industry leader for decades, bringing innovative imaging systems to construction companies of all types. If you're looking to streamline your assessments, improve quality or achieve a different goal, our experienced team can help you find, implement and use the right system.
Learn more about our NDT systems by reaching out to us today, and see how Fujifilm can advance your next project.